LAB SERVICES ARE BY APPOINTMENT ONLY
Lab Test Orders
(See "Fasting Instructions" below)
Appointments:
Student Health provider orders are scheduled via the Patient Portal.
For specimen drop-off only, please book via the Patient Portal under the "Appointments tab."
(Outside licensed providers can fax orders to (805) 893-7153
As part of your health care delivery team, it is our goal to provide quality laboratory services for all students.
Image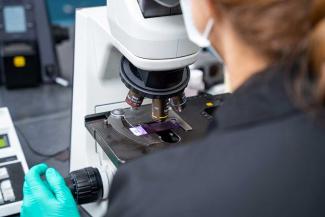 We are required by law to report the diagnoses of Syphilis, Chlamydia, Gonorrhea, and HIV to the Communicable Disease Office of the County Public Health Department
Convenient STI testing procedure
Go to the patient portal
Log in by entering your net ID and password.
On the left hand side, click on "Messages", then click on "New Message."
Select "I want STI testing."
Complete and submit questionnaire.
A nurse will review your questionnaire within one business day and contact you via secure email regarding your STI testing orders.
If you have any symptoms you think is related to an STI, or known contact with a partner recently diagnosed with an STI, please make an individual appointment.
If you are instructed to fast before your test do not eat for 12 hours.
Common tests that require fasting are some Lipid panels and Iron studies: a blood glucose test requires only an 8-hour fast.
Only water is allowed when fasting. Please follow your provider's instructions for your specific testing needs, or call the lab if you have questions at 893-2687.
 
Student Health provides HIV testing. If you would like to find another testing center, please use the HIV Testing Sites and Services Locator (from AIDS.gov):
Licensure
Laboratory staff are trained professionals.  Our lab is staffed by:
Licensed Clinical Laboratory Scientists (CLS)
Certified Phlebotomy Technicians
Our accrediting agencies
The lab is inspected and licensed by the State of California.